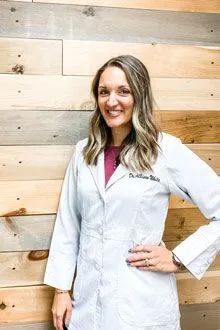 Allison Karen White, D.M.D.
General Dentist
Professional
As an owner dentist here at KDC I focus on treating patients like family. I work here with Dr. Sheffield (my Dad!) who has built an amazing patient-centric office here in our community. I couldn't be happier to be here helping him expand this practice as we grow. A little bit about me…
I graduated from Ponaganset High School (right down the street) then went on to receive my Bachelor of Science degree in Biology from Boston College. During my time in college, I spent time shadowing my father at work and fell in love with dentistry. I realized it was a very hands-on way to help others. The dental field focuses on PREVENTION of oral and overall health issues. I love this proactive approach. I saw how my Dad's patients were really his friends and I couldn't wait to be part of that.
I loved living in Boston so I continued my education at Boston University where I studied Medical Sciences, published my thesis on 'The Effect of Dairy Products On Dental Caries,' and received my Master of Arts Degree in Oral Health & Medical Sciences. This is where I started to eat-live-breathe dentistry and how oral health affects overall health. I contributed significant data to the published research articles on dry mouth, fluoride, and head and neck cancer at Tufts School of Dental Medicine alongside world-renowned dentist and researcher, Athena Papas, Ph.D., D.M.D. In 2010 was accepted to the Henry M. Goldman School of Dental Medicine where I earned my Doctor of Dental Medicine, (D.M.D.) degree.
Personal
Dan is my wonderful husband who supports me and my career and has given me two beautiful children: Daniel Jr. (DJ) and Camille. I also have to mention my two golden retriever babies too, Bella and Scout! As a working mother, I am passionate about giving back to women and children: I provide dental care at Boston's women and children homeless shelters, I give lectures on nutrition and its effects on dental health to students and professors, and give aide and dental supplies to children in need in Thailand and The Philippines. I recently volunteered in Mexico placing implants for the underprivileged giving them teeth to be able to eat and smile again. I have enjoyed providing comprehensive dental care at the Boston South End Community Health Center for adult and pediatric patients.
Community
I am fascinated by all aspects of dentistry and provide my patients with gold standard care with completely individualized plans. I pride myself on thorough dental work and examinations and providing a calm, personable experience. My services include state of the art diagnoses and treatment plans, dental tooth replacement of missing teeth with implants and fixed bridges, aesthetic veneers, crowns & fillings, teeth alignment (Invisalign), cosmetic procedures, full mouth reconstructions, periodontal procedures, teeth whitening, restorative and fixed procedures, endodontics, fabrication of removable appliances, and surgical and non-surgical extractions.
Dentistry is constantly evolving and the Yankee Dental Congress is where I take courses on the newest technologies and procedures every year. I am an active member of the American Dental Association, American Association of Women Dentists, the Connecticut Dental Society, American Student Dental Association, & The Academy of General Dentistry.
Dr. White has been featured on Podcasts!
PR News Channel Dr White Exceptional Dentist Dayville
"Respect is earned. Honesty is appreciated. Trust is gained. Loyalty is returned."
- Ed Mylett
---
Kimbal Sheffield, D.D.S.

Professional
I earned a Bachelor of Science (B.S.) from Boston College in 1977 and my Doctor of Dental Surgery (D.D.S.) degree from Georgetown University School of Dentistry in 1981. I became a dentist in Peabody and Medford, MA after graduation, then moved to Dayville, CT in 1985 where I started this dental practice. We have grown exponentially, all dentists and hygienists at this office provide individualized comfortable dentistry. I have been an active member of the American Dental Association and Connecticut State Dental Society since 1981. I am also a Board Member of Peer Review of Northeastern Connecticut.
Personal
I was born in Toronto in 1955, grew up among my two brothers in Hamilton, Ontario, Canada until 1964. I then moved to Woodridge, Connecticut, and became an American Citizen. I met my wife at Boston College in Biology Lab, and in 1978, we tied the knot! Soon after, Pamela and I had three loving children: Allison, Lauren, and Peter. Now, Allison, my oldest daughter, is working here as a dentist, following in her father's footsteps! She and her husband Dan have two children and two dogs and live in Massachusetts. Lauren is an elementary school teacher who lives with her husband Shawn, two children, and two dogs in Rhode Island. Peter and his wife Liz live in Rhode Island where he is a computer scientist and an avid snowboarder. Yes, I am a grandfather! It's such a joy.
Hobbies
I enjoy being very involved in our community. When I am not working or volunteering, I enjoy running, bicycling, time at the beach, and gardening. Most of all I love spending time with my wife, children, and my grandchildren.
---
Jayesh Patel, D.M.D.
Professional
Welcome to Killingly Dental Care! Congratulations on taking your first step to optimal health! I graduated from Boston University with a Bachelor of Science in Human Physiology, and pursued graduate studies in Physiology, earning my Masters of Science from New York Medical College. Subsequently, I returned to complete my dental education at the Boston University Henry M. Goldman School of Dental Medicine where I received my Doctor of Dental Medicine, D.M.D. degree, magna cum laude. I graduated with certificates in CEREC, CPR, and Invisalign.
While in dental school, I served as a teaching assistant for removable prosthodontics (dentures), occlusion (the way your teeth come together and chew), and endodontics (root canals). I also performed research, publishing a study in 2017 looking at a novel pharmaceutical agent in the treatment of periodontitis in the Journal of Clinical Periodontology. Upon graduation, I was honored to be awarded the Hanau Best of the Best Prosthodontic Award, American Association of Oral and Maxillofacial Surgeons 2018 Dental Implant Student Award, and the Oral and Craniofacial Biology Predoctoral Research Award.
Personal
I was born in South Africa and lived there until 1999. I moved to the United States, gradually moving up the east coast and finally landing in Massachusetts where I've lived for over 15 years.
Community Involvement and Interests
I thoroughly enjoy giving back to my community, often volunteering in my free time throughout the dental school at the local food bank, community events such as Boston's Christmas in the City, and going to Panama for international dental mission work. I enjoy the outdoor activities that New England has to offer, and can often be found biking, hiking, and playing tennis.
Looking forward to seeing you!
"Be humble, be teachable, and always keep learning."
- Ty Howard
---
Claudia Odiaka
Pedodontist | Specializing in Children's Dentistry
Professional
Hello all! Please call me Dr. Claudia. I was inspired to become a dentist by the myriad of positive experiences I had with dentists who took care of me during childhood and early adulthood, and I strive to pay that forward. My goal is to help your child achieve a healthy mouth and to do so in a way that is fun and engaging.
I graduated from Yale University with a Bachelor of Arts, and earned my Doctorate of Dental Medicine from University of Connecticut School of Dental Medicine, where I received several awards, including The American Academy of Pediatric Dentistry "Certificate of Merit" and The International College of Dentists "Humanitarian Award". Wanting to focus my practice on the care of children, I went on to complete two more years of specialty training at the pediatric dentistry residency program at University of Connecticut Health and Connecticut Children's Medical Center. Afterwards, I studied for and passed a rigorous set of exams to become board certified and am a Diplomate of The American Board of Pediatric Dentistry. I am a lifelong learner, and stay up to date on the latest advances in pediatric dentistry through continuing education courses.
Personal
I enjoy spending time with family and friends, especially when good food is involved!
Community
I am an active member of the Connecticut Society of Pediatric Dentists, Connecticut State Dental Association, American Dental Association, American Academy of Pediatric Dentistry, and American Board of Pediatric Dentistry. I enjoy volunteer work and giving back to the community at events like the Connecticut Special Olympics and the free dental clinics at the Connecticut Mission of Mercy. For my work providing preventive care to Connecticut's medically underserved populations, I was awarded the The Leadership Fellowship and Alumni Excellence awards from The Urban Service Track Scholar Program.
Dr. Claudia is accepting new patients at this time.
---
Michael N. Fogge, D.D.S., M.S.
Orthodontist
I am a New England native who received my doctorate from Columbia University in New York before completing specialist training in Orthodontics and Dentofacial Orthopedics at the #1-ranked University of Michigan.
During my academic career, I have been the recipient of several honors including the Rackham Merit Award and Lyons Endowed Orthodontic Fellowship. I have also been named a Margaret E. Mahoney Fellow at the New York Academy of Medicine for my work in community oral health. My clinical experience includes my time on the Craniofacial team at Mott Children's Hospital in Ann Arbor, where I developed expertise treating cleft lip and palate patients and trained extensively in the field of surgical orthodontics. My research in tissue engineering and skeletal biology has been published and presented at symposiums across the country.
I specialize in both clear aligners (Invisalign/SureSmile) as well as traditional braces and welcomes patients of all ages. As a Board-certified clinician and active member of the American Association of Orthodontists, I am committed to providing excellence in patient care. I believe strongly in a personalized approach to orthodontics and working individually with you and your family to provide the ideal treatment customized to your needs.
Outside of the office, I am a fitness enthusiast and an avid home cook with an affinity for French and Japanese cuisines. I am passionate about improving oral and overall health and creating beautiful smiles that will last a lifetime!
For a printable version of our orthodontic referral, please Click Here